SiteGround WordPress Hosting is mostly known and endorsed for their expertise and easy solution in managed WordPress hosting.
Among hundreds of popular WordPress hosting companies out there, SiteGround is one of the THREE Officially recommended hosts by WordPress.
In this SiteGround WordPress hosting review, I will assess all the features and tools offered by SiteGround and find out why SiteGround hosting is right for you.
Keep reading!
SiteGround Managed WordPress Hosting
With their 'Managed WordPress Hosting', SiteGround offers many exclusive features that will make your WordPress site management easier for you.
Now let's dive into our detailed SiteGround WordPress Hosting Review. I'll discuss all the features and tools for WordPress and my own Experience as a customer of SiteGround for over three years.
# WordPress Launch
You don't need to download WordPress core files, install and configure it manually to create your WordPress site. SiteGround offers a simple one-click WordPress installation that allows you to configure your site in a single page.
# Free WordPress Migrator
If you are transferring/migrating your site from another host to SiteGround, you can do that yourself without hiring an expert. SiteGround offers a free migrator that that you just need to install and provide the token rom your Control panel. All of your contents will be moved securely and perfectly configured. And, it comes FREE.
# Managed Security & Updates
SiteGround ensures the security of your sites at server and application level by keeping track of WordPress-related vulnerabilities and patching against exploits. They do also keep your WordPress application and plugins up-to-date with the latest version. You can also skip any updates or alter your site to the previous version with a single click.
# Unmatched WordPress Performance
They also offer comprehensive performance solution that will significantly speed up your WordPress sites as well as optimize its resource usage with enabling powerful caching, files minification, PHP version control, lossless image optimizations and more!
Awesome Tools for WordPress Webmasters
Building and maintaining a WordPress site is easy with SiteGround's thoughtfully designed tools.
# Free SSL Certificates
Any SiteGround hosting plan comes with free Let's Encrypt Standard and Wildcard SSL certificates. The SSL certificates are free for unlimited domains and subdomains.
# Daily Backups
SiteGround offers free daily backup for your account and keeps up to 30 backups. A full backup restore is the fastest way to restore your site and limit the effects of website downtime on your site traffic. The restores are free on all of SiteGround's shared hosting plans. You can also create an instant on-demand backup with a single click.
# Email Service
With SiteGround WordPress Hosting, you can create professional email addresses with your website domain at no extra cost. You can create as many accounts as you need, access them using a friendly webmail interface, create forwarders and autoresponders, and more.
# Staging Tool
We've developed a tool that creates a copy of your site, allows you to work on the testing site, and then push the changes to your live site with confidence, in one click! Just to be on the safe side, we also perform automatic backups each time you upload a staging version to production.
# Dev Toolkit
If you are an advanced user and love managing your WordPress site through different ways, you will surely love SiteGround's tools like WP-CLI, SSH access, PHP version control, Git integration and more that make workflows easy and fast.
# Free CDN
SiteGround has partnered with Cloudflare to offer a free Content Devilry Network (CDN) service. Cloudflare has networks in 152 different locations and growing. CDN helps in making your site load faster when you have visitors from different geographical locations.
So, is SiteGround WordPress Hosting right for you?
SiteGround is one of the few hosting companies that specializes in managed WordPress hosting. All these tools are designed and developed to help you to manage your WordPress site and make it secure and fast.
You can get a WordPress hosting with SiteGround for as low as $3.95 per month only and it comes with 10GB web space that is suitable for around 10,000 visitors monthly.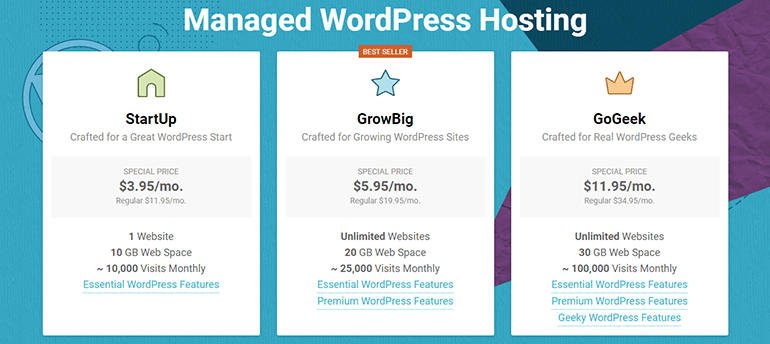 Their customer support is so knowledgeable and friendly that you will get instant support from them in case of having any issues on your website. You can reach SG customer support team via live chat, email, and support ticket.
Conclusion
You can rest assured that our SiteGround WordPress hosting review is completely unbiased and fully based on our own hosting experience with them.
Where are the negatives of SiteGround?
We have previously published another review that includes all the pros and cons of SiteGround hosting.
SiteGround Coupon
WPTechnic users get an exclusive 70% off discount on their first order and free SSL for lifetime hosting. You just need to click on this link to buy their hosting plan. The discount will be applied automatically.