WPForms is a popular WordPress plugin that makes it easy for website owners to create and manage online forms. In this WPForms reviews, we'll take a closer look at WPForms and explore its features, benefits, and drawbacks.
WPForms Reviews: Overview
There are quite a few form builder plugins in the WordPress repository but WPForms is definitely one of the best and most flexible form builder plugins available. WPForms is not only a simple contact form plugin but offers an easy drag & drop solution to create any type of form in WordPress.
Using this simple yet powerful WPForms plugin anyone can create a beautiful contact form, registration form, payment form, email or newsletter subscription form, or any other type of online form in WordPress with just a few clicks.
That's the main difference between other form builder plugins and WPForms. This is not just another contact form plugin, but a complete solution to building any type of form in your WordPress. That is why over 5 million users used WPForms as their form builder.
WPForms Pros: Features and Advantages
WPForms plugin comes with some great features and powerful integration that makes the plugin easy to use and flexible to build forms.
Drag & Drop form builder: To create an amazing form using the WPForms plugin, you only need to drag & drop the pre-build functions in your form. It only takes a few minutes to create a form without writing any code.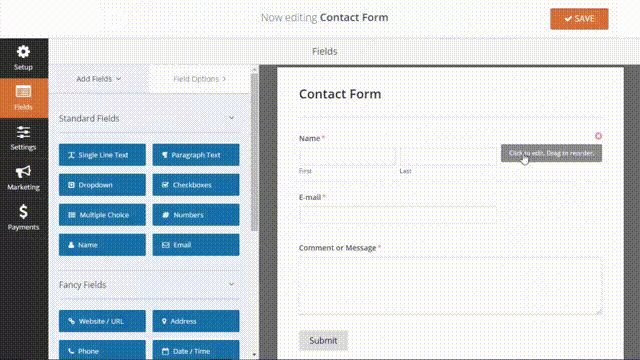 Form Templates: To save your time and allow you easily create a form, WPForms comes with over 330 pre-built form templates (24 in the free version). So no matter what kind of forms are in your mind, WPForms will surely come in handy.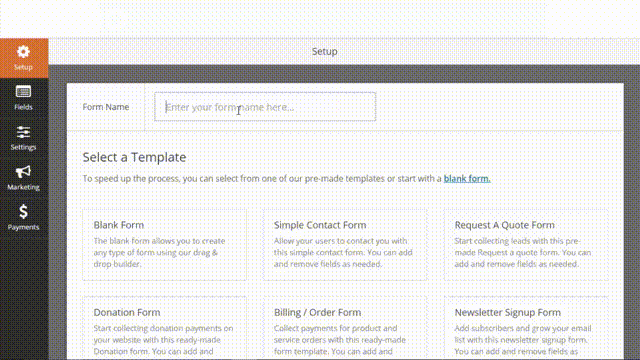 Responsive and Mobile Friendly: Unlike other form builder plugins, WPForms is fully responsive and fits on desktop, mobile & tablets.
Smart Conditional Logic: WPForms also offers smart conditional logic that allows you to create high-performance forms. You can show or hide fields or sections depending on users' behavior. So for example, depending on users' gender, you might ask different questions for males and females.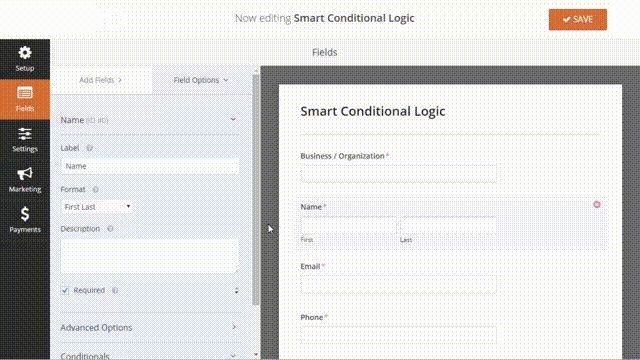 Instant Notification: WPForms sends notifications to all parties, sender, admin, and other receivers, almost instantly after form submission. This is very important if you want to get clients' feedback or orders or users' submission straight away.
Entry Management: Unlike other forms, WPForms stores form entries on your server and lets you see form submissions in the dashboard. So you don't need to check your emails for all entries. You can also export or print entries, add notes, see Geolocation data and save favorites.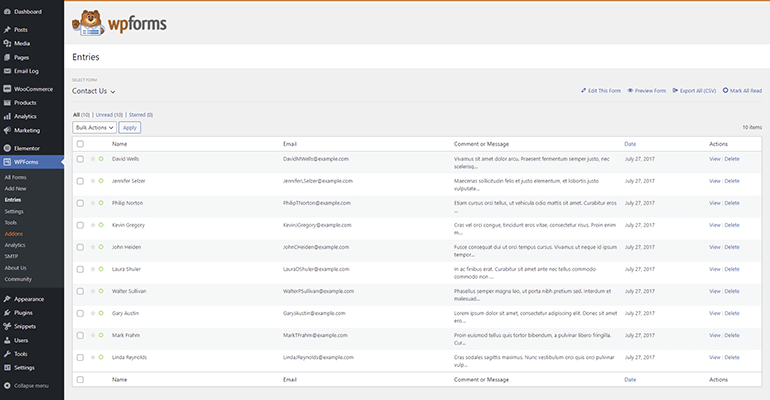 Multi-Page Forms: If you're going to make a long-form with lots of fields, you can split the form into multiple pages to improve the user experience. So for example, if it's an event registration form, you might show even related fields/selections on the first page and users' info on the next page.
File Uploads: This is a life-saving feature if you plan to allow your users to upload files and media with their form submission. With this feature, you can easily collect CVs for job submission, profile photos for event registration, and more.
User Registration: Not only to create a contact form but you can also use WPForms to create a registration form for any purposes like event registration, student registration, or customer registration.
Payments: You can collect payments, donations, or online orders with WPForms using popular payment gateways like Paypal, Stripe, Square, and Authorize.net.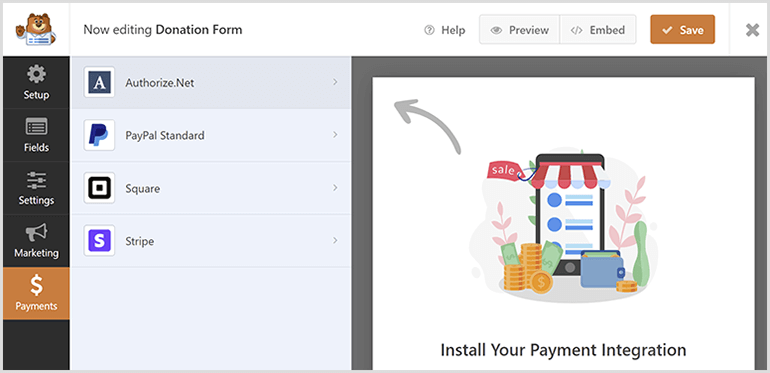 Email list: You can also build an email list with your form submission using WPForms. WPForms offers integration with the popular email marketing and newsletter companies that include Constant Contact, Aweber, Mailchimp, GetResponse, Campaign Monitor, ActiveCampaign, HubSpot, Salesforce, Drip, and Sendinblue.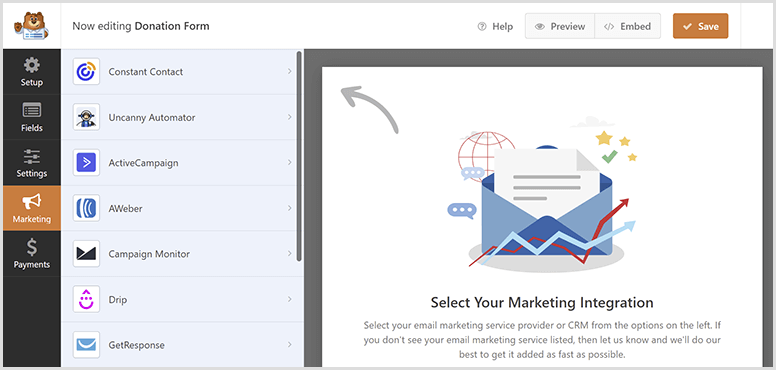 Post Submission: Using WPForms you can also allow users to submit guest blog posts and other content in WordPress. After a user submits the form, WPForms will create a new blog post with pending status for you to review before publishing.
Surveys and Polls: The survey feature allows you to get feedback or opinions from your users/customers and the poll feature allows you to run any poll campaign.
Save and Resume: This function allows your users to save partial entries and complete the form later.
Signature: When creating forms with WPForms, you can also allow users to sign their submission with a signature using a mouse or touchscreen.
Other Features: WPForms Pro comes with many other features like Geolocation to fetch users' location-based data, Form Abandonment to see users' data who left with partial entries, Conversational Forms addon to create interactive form layouts, Webhooks to send your form entries to third-party tools or external services, Zapier integration to connect your entries with any Zapier apps, and Spam Protection with Captcha by Google or custom question and math captcha.
WPForms Cons
To be fair, the only con for WPForms is that the lite version of the plugin doesn't offer the common functions like address & phone field, file upload, password, signature, and mostly payment fields.
So, if you want to build a form to allow users to upload files, get users' addresses, and most importantly receive any payments you must buy the pro version of the plugin.
WPForms Pro Price and Plans
If you're considering using WPForms for your website, one of the first things you'll want to know is how much it costs. Let's take a closer look at WPForms pricing and help you choose the plan that's right for you.
WPForms currently has four types of pricing plans. The basic plan costs as low as $31.60 yearly, the plus plan costs $79.60 yearly, the Pro plan costs $159.60 and the Elite plan costs $239.60 only.

So, Should You Buy WPForms Pro? Do we Recommend WPForms?
Considering the features and flexibility WPForms offers the pricing seems very fair & reasonable to us.
If you plan to create a form for your WordPress site, a developer may cost you a minimum of a few hundred, but with a base price of $31.60 only, you can easily get the WPForms Pro and build your forms easily with drag & drop functions.
So Yes, when it comes to creating an online form in WordPress, of course, we recommend WPForms Pro. You don't need to know any coding to create a contact form or any kind of form using WPForms plugins.
WPForms Review Conclusion
WPForms offers many benefits with only one con it's pricing. However, with WPForms you can build an online form or surveys in WordPress in minutes, not hours, and without hiring a developer.
Hope our WPForms reviews was helpful for you to make a decision on choosing the right WordPress form builder plugin. If you plan to create a form for your WordPress site, this easy to customized WPForms will surely adapt to your needs.